That's how many years together Sean and I are celebrating today:
Below is a pic of us just before we set off to our formal in a limousine:
We met in 1986 in a third-year History seminar on Medieaval England at
Queen's University
, became good friends in fourth year in a study group for our Crusades seminar, started dating on February 19, 1988, and married at the university chapel in 1990.
At my brother-in-law's wedding last summer,
the photographer
took some family photos as part of the package, including this one of Sean and me: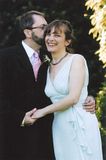 The years have gone quickly, and have seen ups and downs, but I'm still as happy with Sean as the first day we were together -maybe even happier :-)
In writing news, I received another rejection yesterday :-( I have to admit I'd love to know if it's my time period specifically or the query letter itself. Hmmm. Meanwhile Sean helped me out yesterday with one of my sticky plot points. As always, his background in military history and years spent reading le Carré and Deighton helped immensely - things that never even occur to me, come naturally to him. I had a bit of an Aha moment with my heroine on Wednesday, so things are starting to come together. Yay!
And, finally, later today I'll be posting over at
Unusual Historicals
.
Happy Friday :-)
Teresa
Currently Reading:
The Adventurous Bride by Miranda Jarrett
Also Currently Reading:
Dark Angels by Karleen Koen
Link of the Day:
Sage advice
from
Miss Snark