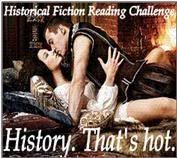 On my recent internet travels, I found
this cool reading challenge
. Now, for me, six books in six months is usually not an issue, but I still want to participate. There are books in my TBR pile, including the ones I bought this weekend (more on that below) that I have been meaning to read, but haven't quite gotten around to yet. So I'm going to make this list and stick to it:
1)
Mistress of the Sun
by
Sandra Gulland
2)
March
by
Geraldine Brooks
3)
Galileo's Daughter
by
Dava Sobel
4)
Versailles
by
Kathryn Davis
5)
The Secret Book of Grazia dei Rossi
by Jacqueline Park
6)
Burning Bright
by
Tracy Chevalier
Now, I'm already a huge fan of Gulland and Chevalier, having read all their earlier novels. Brooks is a more recent find - I reviewed her most recent offering -
People of the Book
- for the
HNS
. My mum has read March (she gave me my copy) and Year of Wonders, as well as PotB and highly recommends the others.

GD I've heard lots of good things about and the final two have been on my TBR shelf for several years now and I really do want to get to them. This might be just the inspiration to pick them up and read them :)

So, how 'bout you - are you up for the challenge?
As I mentioned above, I bought several books on the weekend, at the book sale in aid of the Friends of the Sechelt Library (where I volunteer). As well as Galileo's Daughter, I picked up The Time Traveller's Wife, a mystery by John Dunning, Georgette Heyer's novel about William the Conqueror, some very cool exhibition catalogues on old coins and militaria and more:


The exhibition catalogues are fantastic - they have pics of swords and medals from my period, along with detailed descriptions and some history. For those who write hf, venture into the art history area of your library and see if they carry any of these wonderful sources. You're more likely to find them at a big research library, than a smaller local branch, or, as I did, at a book sale.
Ok - on with my day, now. We had a busy weekend. Sean stacked fire wood on Saturday, while I worked on burning more brush. Lots to catch up on here in my little office.
Teresa
Currently Reading: The Wheel of Fortune by Susan Howatch
Link of the Day:
Research page
of
Sandra Gulland's website