here are a couple of photos of it: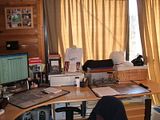 In one you can see Cleo in one of her favourite spots - from there she can look out the window AND curl up and sleep in great comfort. Which is what she's doing now *g*.
The cleaning took me most of yesterday, but things are more organized.
However NOW, after reading
Kristin Nelson's post
at
Romancing the Blog
the other day, I'm going to rewrite my hook/blurb. I've a feeling mine sounds a tad too generic. I thought it was great she broke things down by genre. So, to work, to work.
Can you believe it's Thursday already?
Teresa
Currently Reading:
The Greatest Knight by Elizabeth Chadwick
Also Currently Reading:
The Scot, the Witch and the Wardrobe by Annette Blair
Link of the Day:
Free Online History Courses
at the
Open University