Sunday morning dawned a little later for me - which was a relief. It also dawned rather cloudy, so cloudy that while we were heading over for another latte for me, it began to rain. Nothing serious, just a light misty rain interspersed with sunlight breaking through the clouds. After some serious discussion, Sean and I decided to head back up to Kingston later in the day. Camping is fun, but by that point we were also ready for a real bed and a real shower *g*. But there was still time to hang out and chat with the others before breaking camp.
Across from us was parked a cool vintage bike complete with sidecar:
Needless to say, it attracted a great deal of attention over the weekend. I was glad I took the photo when I did, because soon after, its owner started breaking camp as well. Then I turned my camera on the cool looking tree (it's branches all seem to curve in one direction) just behind our campsite, and caught Sean in action cleaning off the bike
By just past noon we were ready to leave. As always it was sad to say goodbye, but we were ready for another gorgeous ride - by then the sun had come out again, so the day promised lots of beautiful scenery. And we weren't disappointed. Once again we headed up 414 out of Watkins Glen and passed through Seneca Falls, scene of the 1848 Women's Rights Convention. There's a
memorial
there, but we didn't have time to stop as we had to make sure we reached Cape Vincent in time for the last ferry.
And sure enough, we did, pulling into the
little village
across from
Wolfe Island
just after 4:30. Sean took out the picket sign one last time: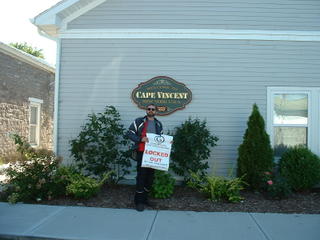 Here's the view from the CV ferry dock looking across to Wolfe Island: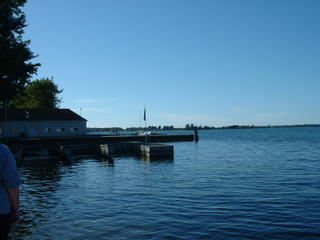 By 5:00pm we were on the
little ferry
(I'm not kidding - it holds at most 10 cars with room for a few motorcycles) and heading back to Canada. We were first off and once through Customs, headed across the island to catch the ferry to Kingston.
Our luck held true, so that when we pulled into the ferry terminal in Marysville, the
boat was just about to dock. Now all we had to worry about was getting a room in Kingston for the night. Not only is the city a popular destination for long weekends, for both Canadians and Americans, but it was also the start of Frosh Week at our Alma Mater,
Queen's University
. Still, we figured what would be would be and enjoyed the ride. I retrieved the camera once more and took some photos. Below is a view of
Old Fort Henry
as we approached it: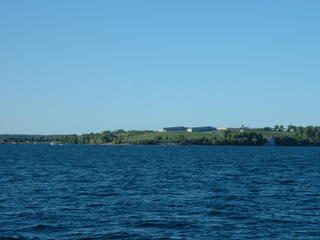 And here's what
Kingston
looks like as you approach it from the water: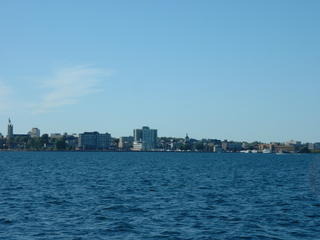 We found a room at the first hotel we tried - yay! After cleaning up, we went next door to the
Kingston Brew Pub
for dinner, which was delicious as always, took a quick walk then retired for the night.