Because yesterday morning, I FINALLY got some planting done. There's a big flower bed beside our cottage and I'd volunteered to take care of it this summer, but what with all the wedding prep etc, I never quite got around to doing anything with it. So on the weekend I weeded some of it, then bought some plants. THAT was fun. I was like a kid in a candy store.
Yesterday morning I headed outside and finished the weeding, mixed earth and peat, then dressed the beds before getting to the main point of it all - planting! I had chosen all perennials (Teresa's secret to easy gardening, discovered after YEARS of heartbreak with many of her annuals) that are drought resistant, so it was a matter of deciding what goes where to fit in with the existing plants. That's always fun. All in all, I was out there about 3.5 hours and LOVED every minute of it. And I need more plants, so it's back to Quality Farms for more on Friday. Yay!
Here are some pics of what everything looked like late yesterday afternoon: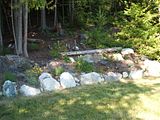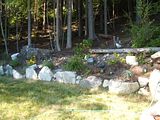 On Monday, we went out on the little red motorcycle - the GS (on/off road) as our plans to go out on the bigger one on Sunday kinda fell by the wayside. On the red bike we can go off-road and figured that would be more fun on a day when there would be tons of traffic on the highway with end-of-long weekend-traffic.
We headed up to Dakota Ridge:
where Sean had to check the map to figure out exactly WHERE we were:
The road we travelled: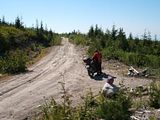 A road spur on the way down - it had a great view: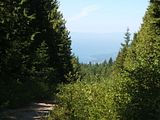 Sean let me off to take the photo and went to explore - he found a deep gulley! Here's an action shot of him returning:
Later on we headed further along the forestry road and went down another spur Sean used to ride on his dirt bike. It was pretty smooth at first, but at one point we were going up and down fairly constantly and then there was the moment a rock caught on the footpeg and I was almost bounced off the back! Fortunately I wasn't as Sean kept control of the bike. On our way back, we stopped at a bridge to have some water and let the bike rest for a bit. I took out my camera again. Here's me relaxing:
and here's Sean and me together: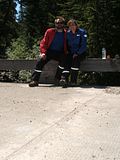 Then we climbed down to creek level and walked out on the rocks - it was delightfully cool down there and oh, so pretty: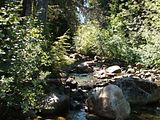 I couldn't resist taking another photo of Sean:
We ended our ride down at a local cafe before hitting the highway and heading home.
There we found Chloe, looking very smug on the bag that holds our motorcycle gear: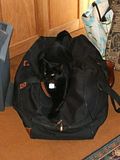 And speaking of smug kitties, here's a photo of Cleo, taken on the weekend (you can see Chloe as well - snoozing in the sun):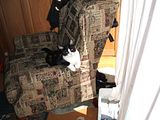 Last, but not least, Moonbeam the baby llama contines to grow apace - here she is with her sister and mother: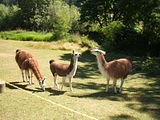 Teresa