I didn't get quite as much done yesterday as I hoped.
In fact, I decided, after running my errands, to just finish my review book instead of writing. Yep, I had to choose and finishing that book won out. However, it's done now. I still have one more to read (the first copy went missing in the post). Aaack.
But TODAY, I will work on my story, using yWriter. It's a great planning tool.
In shopping news, I discovered I'll have to take my dress with me while looking for shoes and a wrap. It's a distinct shade of blue and I don't want to waste time getting something that won't really go with it.
And, my photo of the day: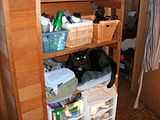 Isn't she adorable? I found her there this morning. And she even stayed while I took the photo. Such a good girl.
Teresa
Currently Reading:
Lucy Sullivan is Getting Married
Also Currently Reading:
Review book #2
Link of the Day:
Research Books I Have Loved
- at
WordWenches