and walked down to the beach in time for sunrise:
Yep - the wedding was one big party - starting with the lovely outdoor ceremony and ending with a morning dip in the ocean for some (because of wardrobe issues, I didn't participate - but did take photos *g*).
The best part was seeing family - I met two of Sean's cousins I've missed meeting in all our visits to BC and reconnected with other members of the family.
We started the celebrations at the wedding venue, then moved to bride's parents' house - in limos! Talk about a great ride :-)
By 3 am, Sean and I were out on the dance floor, after spending much of our time out on the patio chatting with friends and family. I'm pretty certain that part was key to us making it through the night. Had I not started dancing, I'd have been tempted to find somewhere to curl up and have a nap *g*. But the music was great and before I knew it, the sky outside was starting to lighten.
So off we went to the beach - my feet, inside new shoes, weren't particularly thrilled, but there was no way I was missing out on the opportunity to see Vancouver by the light of dawn! Here's what it looked like:
Oh, right, I promised a photo of myself in my dress. Sean took this one around 1am, I believe. And if you're wondering why the champagne looks flat and dark in the glass, it's because it's whisky (
Lagavulin
) - there were no whisky glasses available by this point *g*. The dress went just to my knees and was super comfortable all day and night: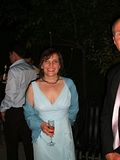 And here's one of Sean taken at the rehearsal dinner:
Well, I've errands to do, so must dash off now. Once the happy couple returns from their honeymoon, I'll ask their permission to post the wedding pics here. Won't do so until I hear from them.
Teresa
Currently Reading:
Madame de Staël: An Extraordinary Life
by Maria Fairweather
Also Currently Reading:
Book for review