Yesterday I managed to get through the first 100 pages of my ms and make the needed changes. Most were minor typos, but there were some spots it appears I forgot to finish sentences. Yep, you read that right. Fortunately those didn't appear in the chapters read by the first round GH judges, but had I finalled, by some fluke, I'd want to crawl under a rock from embarrassment.
How does that happen? I mean, I read that ms over I don't know how many times. But I guess all those edits I did leading up to entering the GH just got away from me. So I vow that the next time I submit an ms, whether to a contest or an agent/editor, I'll triple proof it.
Does this happen to you too? Are you certain you have your ms whipped into shape, only to discover some rather frightening typos/errors/omissions?
Back to the timeline for a moment - I discovered I can only export it to html, not to comma delimited. Well, I can get there, using an html editor, but it takes a while. Still, the expanded version is useful :-)
And now for something completely different
Remember that family wedding I went to a few weeks back? I now have permission to post a few photos. So here they are:
My brother-in-law and wedding party awaiting the bride - doesn't our niece look lovely in her flower girl dress?:
The radiant bride with her father: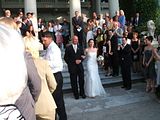 Taking their vows: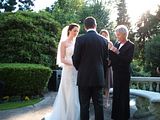 The bridal party (you can see Sean on the right):
We'll be seeing them next week and hope they'll have some of the official pics with them along with photos they took on their honeymoon.
Teresa
Currently Reading:
Books for research/review
Link of the day:
Claire Delacroix on typos
Technorati Tags:
writing
,
family