It's a sunny Easter here :-) I'm taking a few minutes out from stacking books to post some pics from the last week or so.
First, here's a pic of me with my friend Ellen (w/a
Sharon Page
) at my party the other night. I'm waiting to hear from the others about having their photos on my blog. The party itself was wonderful - great food, even better company and lots of chatter.
and below are some of the recent chaos in the basement. It's been somewhat tamed now, but as you can see, the cats think this is great fun!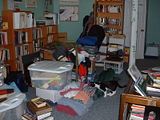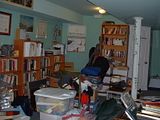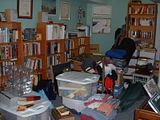 Back to stacking now! I'll check in again when I have a chance, but we're getting down to the crunch at this point.
Teresa
Link of the Day:
Author
Jen Holling
's website (check out her
For Writers
page)