Sean had the camper put on the truck on Monday afternoon. It's pretty cool. Still not sure what the cats will think, BUT there are lots of windows for them to look out and several levels for them to bounce around *g*.



Here's Cleo last night. She always has a little rest after dinner, then runs around like a crazy thing again!




It's a good thing we're moving somewhere with lots of windows - as you can see, like most cats, they're obsessed with what's going on outside: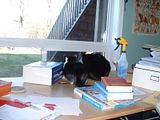 Today is clothes packing day :-) Simple and quick (well, for the most part). And I did get a break yesterday, going to have my hair permed. Wanted to have it done before I left, not only cause it was definitely time, but because my stylist has also been a friend for 20 years - I'll really
miss her.
Thanks for all the good wishes on the move! In some ways it still seems very unreal.
Ok - on with the day :-)
Teresa
Currently Reading:
Never too Late by Cathy Kelly