snapped over the last few days.
First up is Cleo, startled by me taking a photo. Now, you'd think after all the photos I've taken of her ancd Chloe over the last half year, she'd recognize the sound of the camera, but...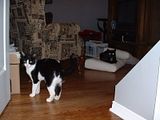 Meanwhile, Chloe has discovered the cushions from our old love seat. Sean threw them down the stairs, intending to take them to the garage. Only Chloe found them first, so they've stayed put as she loves them so much *g*.




When she's not on the cushions, Chloe loves to climb. Here she is on top of the bookcase behind my desk - she was thrilled to discover the magazine racks that used to sit on top had gone!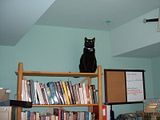 Well, back to work now :-) We're making slow but steady progress - trying to keep things organized as we pack so we can find things easily (or more easily) on the other end. Once I've posted this, I'm going to pull out my absolute NEED books - the ones I MUST have to write, and put them aside. Then I have to do some more shredding - poor little shredder, it's done a lot of work over the last few weeks!!
Teresa
Currently Reading:
Never too Late
by
Cathy Kelly
(yep, the glom continues)
Link of the Day:
UK Historical Romance