After Cleo had eaten her breakfast, I noticed her down by the front door, looking VERY excited, so I went to investigate. At first I saw nothing, then I noticed what she had - you might have to squint a bit to see what I'm talking about - here's a hint, it's brown, fuzzy and hops: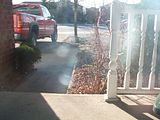 Sorry about the glare from the flash - my camera battery was dying as I was trying to snap the pics! Maybe I should check under my rose bush for Easter eggs?
Oh, and I'd meant to post this the other day. For some reason, the girls treat the front hall as their "playroom". I guess maybe it's because it's really light there and they can take a break to watch out the window *g*. So I came upstairs around noon the other day, glanced down into the hall and saw this: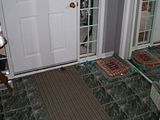 At least they're neat when they leave their toys around!
Movie Night
We had a ball! Watched Love Actually - one of my favourite movies. I definitely need my own copy so I can watch it come Christmas time later this year. It's the perfect Christmas movie. I don't normally like Hugh Grant, but enjoyed his performance in LA. And the soundtrack is fantastic! We had lots of eats, fun chat and everyone loved the movie. A fantastic evening!
And Last, But Not Least
Sean got the job he wanted!!! More details to follow, but suffice it to say, we're really happy. He'll be working 10 mins from home and will be able to ride the bike in year round :-)
Hopefully more pics of the llama soon.
Well, I should get on with my day. Right, I forgot to mention, I actually got some character work done yesterday. I stopped in at Starbucks while out running errands and made some good notes about my heroine, Madeleine, while sipping on my latte and munching a ginger cookie.
Ok, really - that's all for now :-)
Teresa
Currently Reading:
Always and Forever by Cathy Kelly (this is a serious glom session, folks)
Link of the Day:
This one
is courtesy of
my friend Sarah